OUR DIFFERENT BRANCHES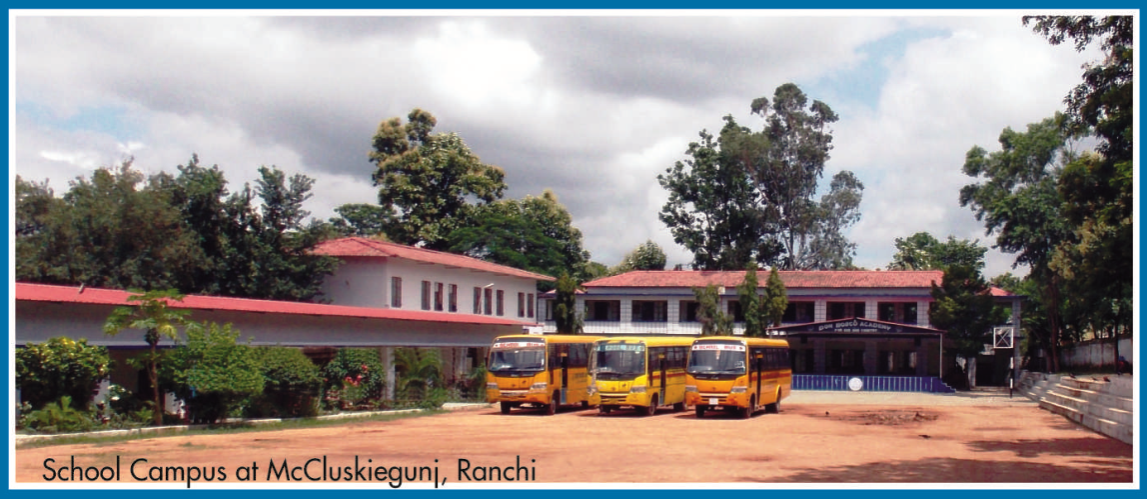 DON BOSCO ACADEMY, P.O. McCLUSKIEGUNJ, RANCHI-8292008, JHARKHAND, INDIA
Phones: +91 - 06531:  9905328578 / 9905328509 / 9939450003
Email: [email protected]; [email protected]  Webpage : www.donboscoranchi.org  
SUPPORTED BY THE SUCCESS OF THE SCHOOLS AT PATNA, THE MANAGEMENT VENTURED TO OPEN A BRANCH AT McCLUSKIEGUNJ, DISTRICT RANCHI, NOW IN JHARKHAND IN APRIL 1997 FOR STANDARDS 1 TO 10 (ICSE) FOR BOYS AND GIRLS.
The school at Ranchi is also Permanently affiliated to the Council for the Indian School Certificate Examinations, New Delhi since April 2000 to conduct the ICSE (Year-10) examinations.  Aff.Code - JH062/2004.  It is also recognized as a Minority Institution by the National Commission for Minority Educational Institutions, Govt. of India vide F.No:574/2007-24976 dated 16th January 2008.
McCluskiegunj was founded on 16th May 1933 by Mr.E.T.McCluskie one of the founder members of the Colonization Society of India. This Society had acquired 10,000 acres of virgin land from the Ratu Maharaja on a perpetual lease to essentially establish a "Moolick" or homeland for the Anglo Indian community. It comprised of several villages - prominent among them are :- Lapra, Konka, Hesalong & Mayapur.
McCluskiegunj is located on the Ranchi plateau at an elevation of 1500 - 2000 ft above sea level, and is about 60 kms from Ranchi town, and therefore enjoys a comfortable and moderate climate. This hamlet is well connected by rail and road as well. McCluskiegunj is located on the Barkakhana loop line of the Indian Railways. This school is located in the beautiful and scenic Chotanagpur hills. The excellent temperate climate in summer and chilled winter, fresh surroundings, plenty of vegetation, fresh air and the notable absence of any pollution makes it an ideal location for an educational institution.
The school functions from two campuses. The main school - middle and senior sections function in its own buildings on a 2.3 acre plot while the junior section functions in a building on a seperate 1.5 acre plot. The schools have good facilities and are equipped with state of the art science laboratories, computer laboratory and library, as well adequate facilities for all sports/games & atheletics. All forms of Co-Curricular and Extra-Curricular activities are actively encouraged. This school regularly publishes it's School Magazine -"GLIMPSES" and it has become a showcase for the talents of its Staff and Students.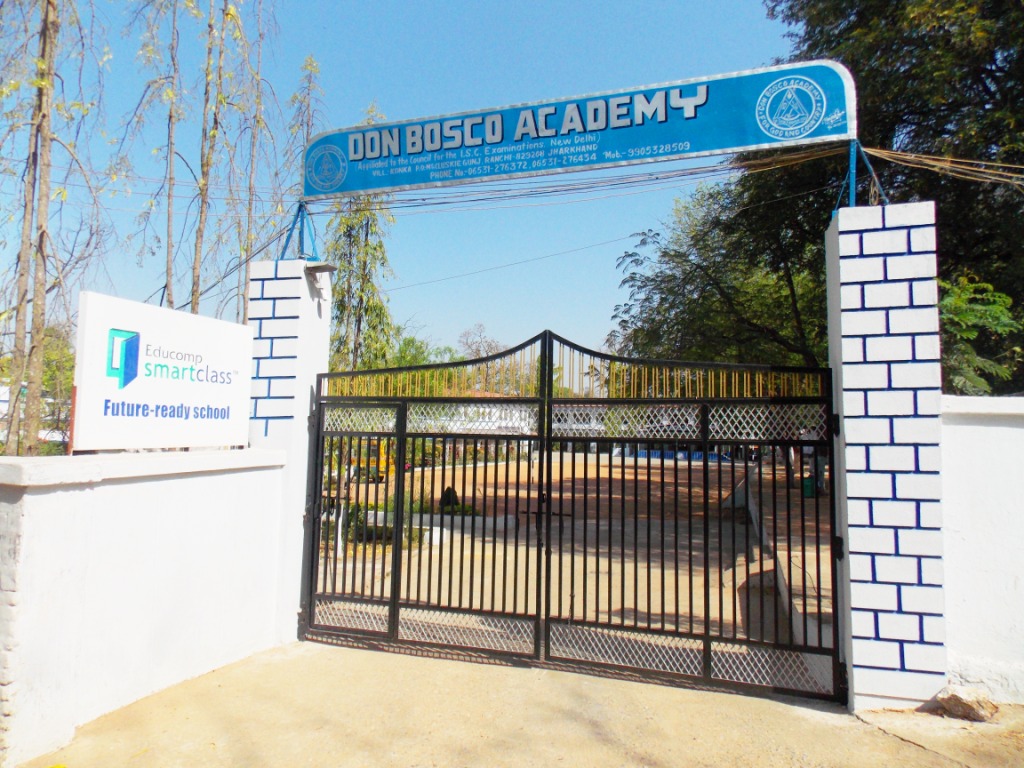 This school popularised the concept of " HOME-HOSTELS" at McCluskiegunj. Residents who own large properties with bungalows were encouraged to open hostels for those students coming from far off places. Todate there are over 40 such hostels existing and housing over 600 students.
The school has saved McCluskiegunj from becoming a GHOST TOWN. The economic life of McCluskiegunj has prospered since the Don Bosco Academy started functioning at McCluskiegunj, besides providing  high quality education to all . Today the very existence of business and services is directly linked to the continuity and success of the school. Over 900 children are today studying at Don Bosco Academy, McCluskiegunj from all over Bihar, Jharkhand and also West Bengal, besides having provided so many jobs directly and indirectly for people of the Gunj.
Within the span of a lifetime we have arrived at the Nuclear and space age from the horse and carriage stage. Our world has become greatly more complex by the rapid advance of science and technology bringing about new economic, social and economic problems. At Don Bosco Academy, McCluskiegunj we provide structures,disciplines and the right curiculum to our school children  so that they are able to  equip themselves mentally, physically and morally and acquire a much deeper understanding and knowledge. At Don Bosco Academy, McCluskiegunj new approaches and methods are being devised by our teachers to meet the new needs. 
Both in the Academic sphere and on the Playing field, our boys and girls have excelled themselves. They have brought fame to the school and honour to themselves. It is now up to the   succeeding generation of students, however, to ensure that their school, now on the Map, stays on the Map. All the activities and efforts of the staff and students are recorded in the school magazine -"GLIMPSES", which is published regularly.
THE FACULTY 
 
SUBJECTS TAUGHT
English
Hindi
Sanskrit
Mathematics
Science (Physics ,Chemistry and Biology)
Value Education
History, Geography And Civics
Computer -Studies/Applications
Economics/Economic Applications
S.U.P.W (socially useful and productive work)
Environmental Studies
Commercial Applications
Winning & Cutting Edge Teaching methodology is encouraged amongst all the faculty. This  institution conducts regular counseling sessions with the students of Std IX to X with an aim in removing doubts and providing necessary information for choice of streams/courses/careers.