Click on photograph to Enlarge
PHOTO GALLERY
Golden Jubilee Fete, inaugurated by Sri Tej Pratap Yadav
---
Diwali Donation Drive on 20/10/2022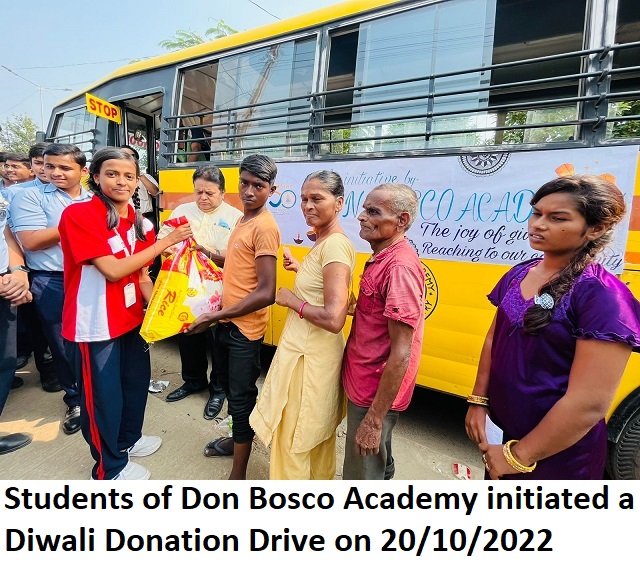 The students of Don Bosco Academy initiated a Diwali Donation Drive on 20/10/2022. Through the generosity and enthusiasm of the students we collected a decent amount, through which we could help the poor families.
The initiative was encouraged by the Director, Mr. Alfred George de Rozario, Treasurer, Mr. Michael Daniell and Vice Principal, Mr. Eric John de Rozario. The initiative was generously guided and helped by the Principal Ms. Mary Alphonsa, who made all necessary arrangements. With her support, the school was able to provide rations to 45 families including 5 kilo aata and 5 kilo rice, 1 L oil, Dal, Salt, Chana, some masalas and candles.
The teachers generously helped. The students approached Mrs. Shalini Sharan who lead the movement.  Mr. Alan Cowell guided the students . Mr. Sushil  Thakur and Mr. Joseph VJ made all prior arrangements for the smooth functioning of the proceedings. Mr. James Reid provided his creative input and Mrs. Sudha Mathew accompanied the students and encouraged them.
The DBA family worked as a team. The students were thoroughly humbled by this experience and repeatedly thanked the teachers.
Each teacher encouraged their students to contribute for the cause, and the students contributed generously. We wish to  keep this spirit alive through such activities. Like our banner said, it's the Joy of Giving-Let's reach out to our Communities.
---
Best School Award

from the Private Schools & Children Welfare Association
---
CISCE National Tournaments 2022
Faculty /Staff Photographs (2019) -
ADMINISTRATIVE-STAFF
Office staff/Non Teaching Staff
FACULTY
---
F A R E W E L L   2 0 1 9
S P O R T S   D A Y  2 0 1 9  Photos of Previous Years
Faculty /Staff Photographs (2018) -
| | | |
| --- | --- | --- |
| ADMINISTRATIVE-STAFF | FACULTY | SUPPORT-STAFF |
---
Photos of Previous Years -R A N C H I