NEWS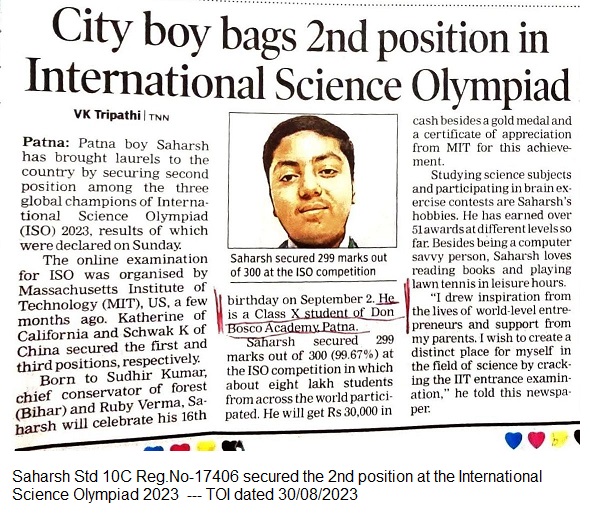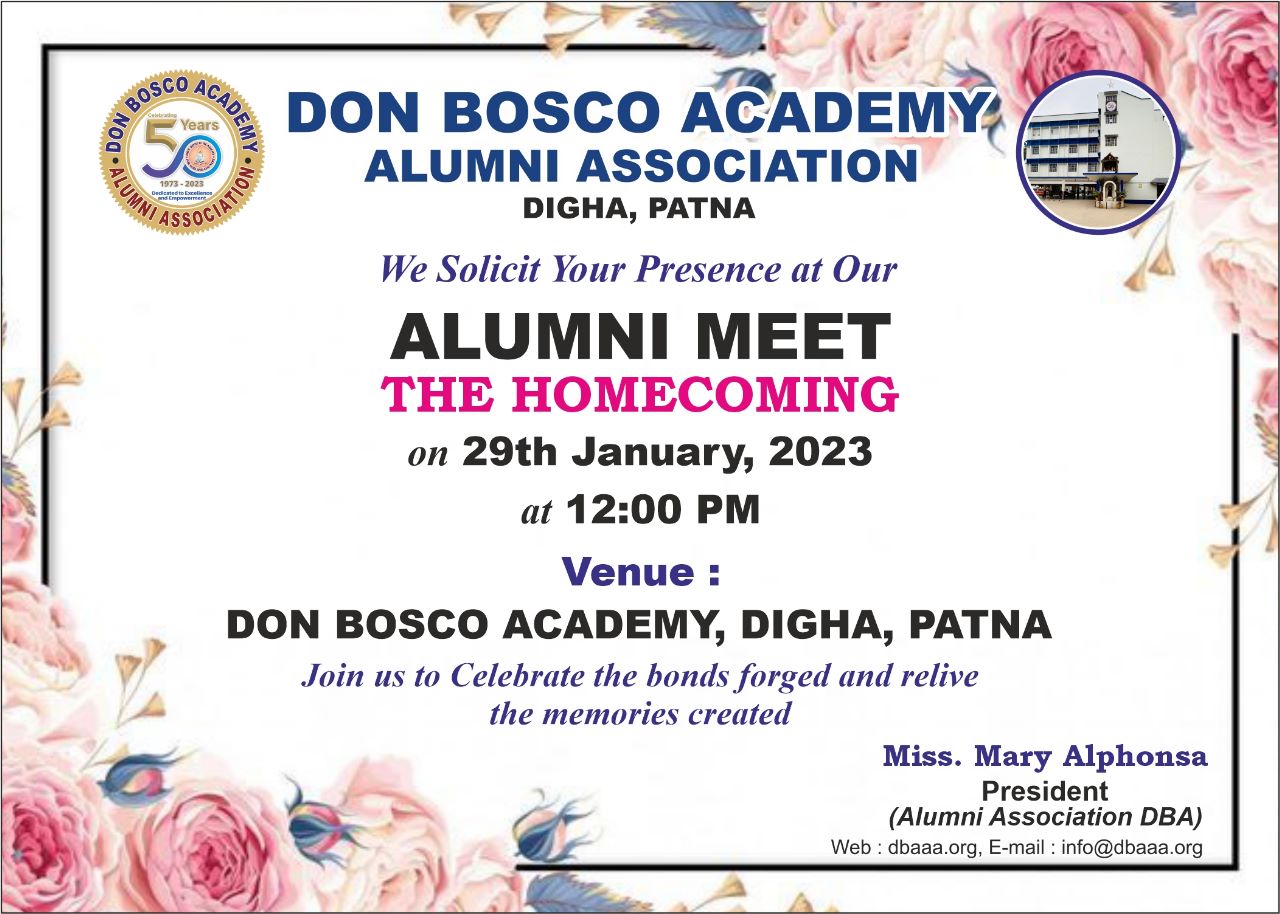 ---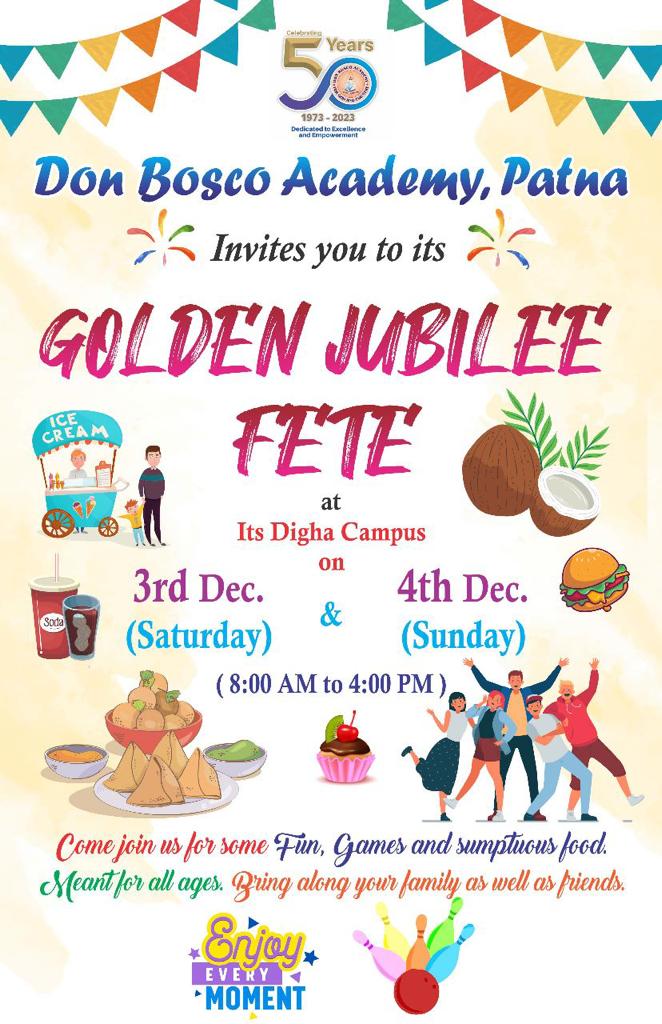 ---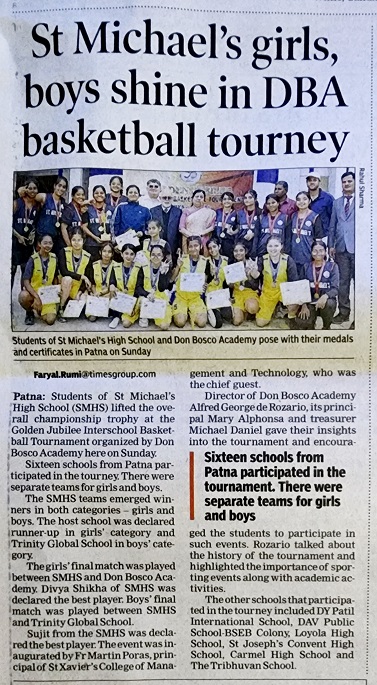 ---


Best School Award from the Private Schools & Children Welfare Association
---
---
 DBA Alumini Meet -04/09/2022


---
 CLIMATO REFORMERS GLOBAL AWARD 2022


---
---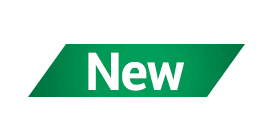 Entab: School Management System | School ERP Software launched 
View Details & Instructions at :  youtube link>>    https://youtu.be/WknuyeWf5Lo
---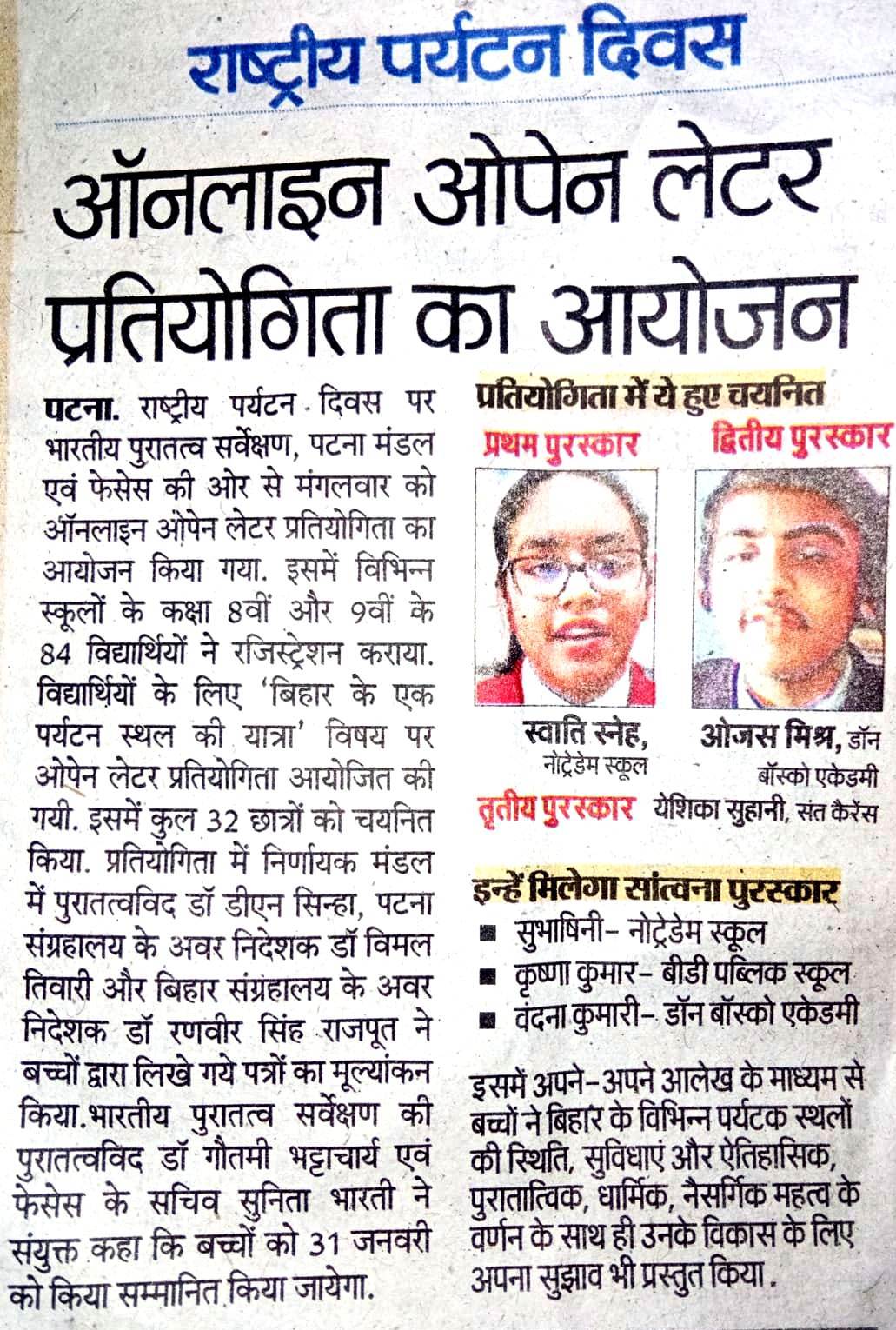 There was an Open Letter Competition organized by ASI , Govt. of India, Patna Circle in collaboration with FACES Patna.
The participant had to write an open letter about his/her travel to a tourist place in Bihar.
11 students from class 9  were selected by the English Language teachers:-
Ojus Mishra 9B
Aaditya Raj 9B
Shaurya Singh 9C
Shlok Agarwal 9D
Pratyksha 9E
Shimeshu 9D
Sumant Raj 9D
Aditya Kashyap 9F
Pratyush 9F
Vandana 9F
Hardik 9F
Nihar Naveen 9G
They all did an outstanding job out.  Ojus Mishra from 9B and Vandana from 9F were selected for the finals.
The competition was held online and they had to recite their letter.
Many notable schools of the city took part in the competition; there were 95 entries in total.
Top 10, two from each school were selected for the final round.
In this tough competition our Boscoites, Ojus Mishra bagged the 2nd prize and Vandana got the consolation prize.
It is indeed a matter of pride and honor for our school. 
Congratulations to all the participants and the winners!
---
      WINNERS-DBA E-EXPRESS ENGLISH ELOCUTION & DECLAMATION FINALS LIVE ROUND 
---
DBA EXPRESSIONS  - ELOCUTION CONTEST
---
 Link to DBA Expressions a Content on Covid - 19 - RESULTS
---
TIMES OF INDIA INTER-SCHOOL QUIZ  28/11/2017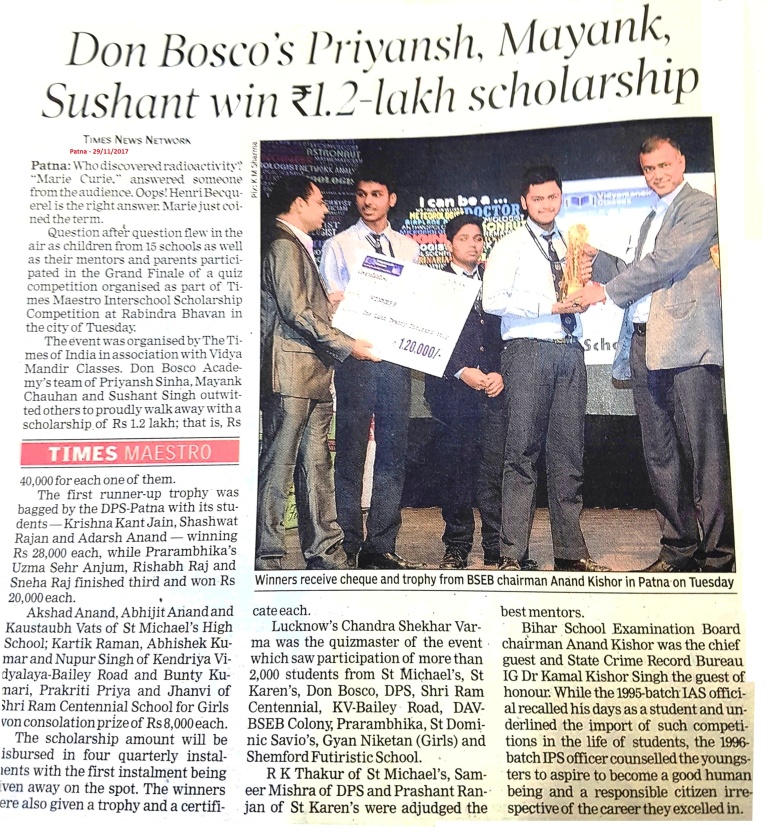 ---
  SCIENCE OLYMPIAD WINNERS 2017 - WITH THE THE DIRECTOR/Sr.PRINCIPAL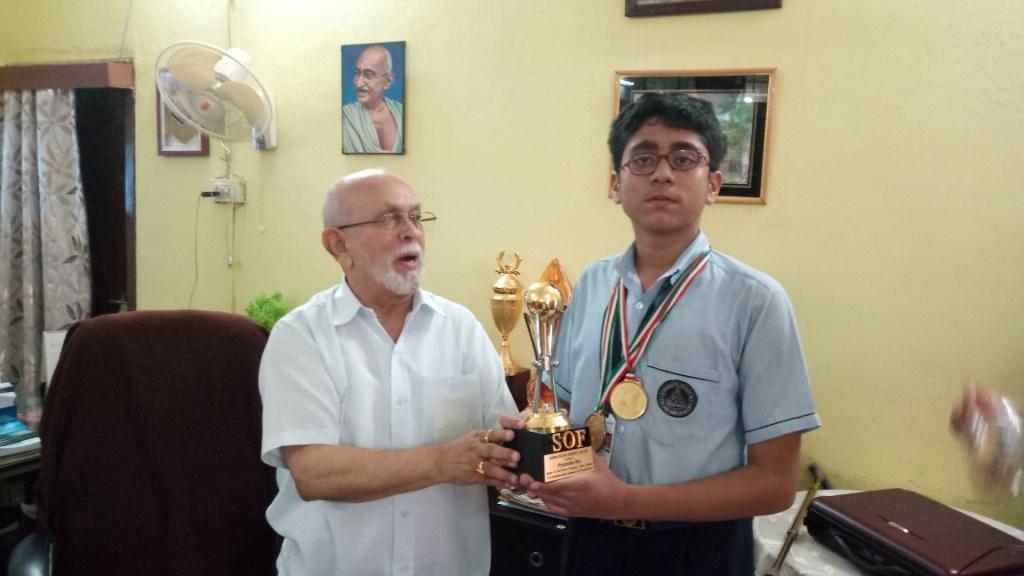 Priyanshu Roy of Std 7E (Adm No:9414) received
1)a cheque of RS 5000/= for Academy Excellence Award , Trophy, Gold medal and certificate.
2) a cheque of RS 1000/= for National Science Olympiad,zonal bronze medal and certificate.
3) a cheque of RS 1000/= for National Cyber Olympiad,Zonal bronze medal and certificate.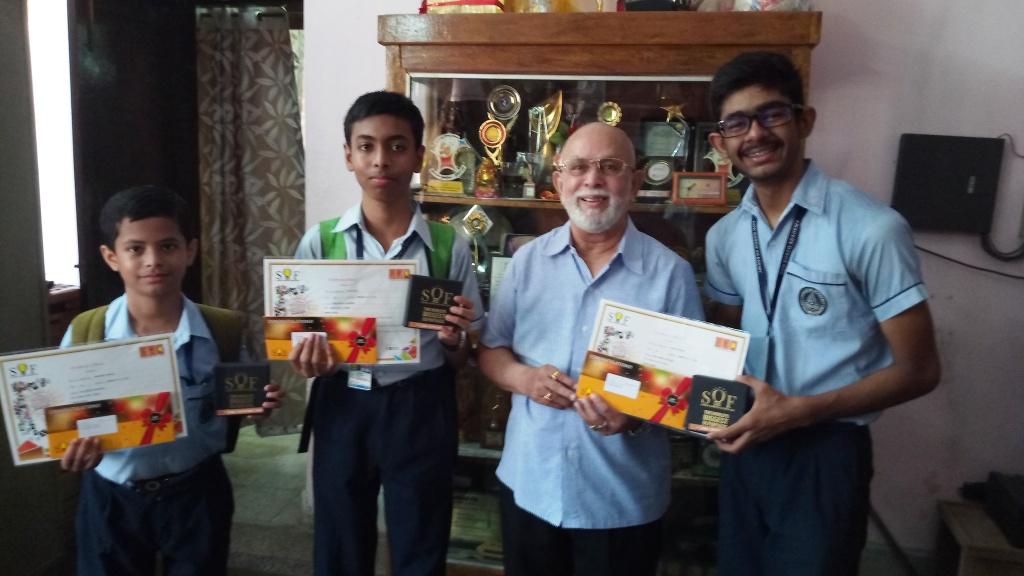 (L to R: Anubhav Anand Std-5, Aryadeep Std-8, Director Mr A G deRozario, Arnav Mishra Std-8)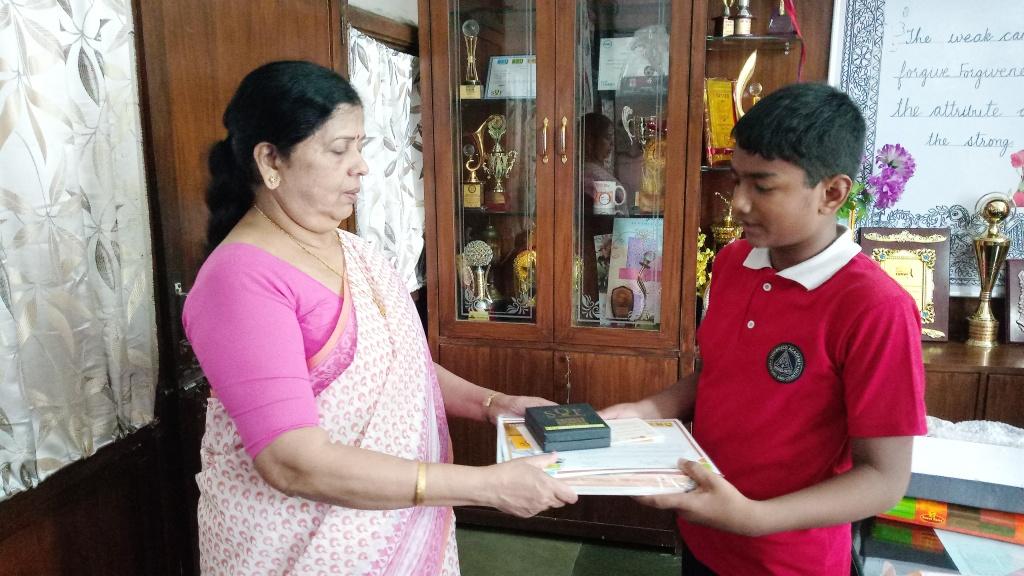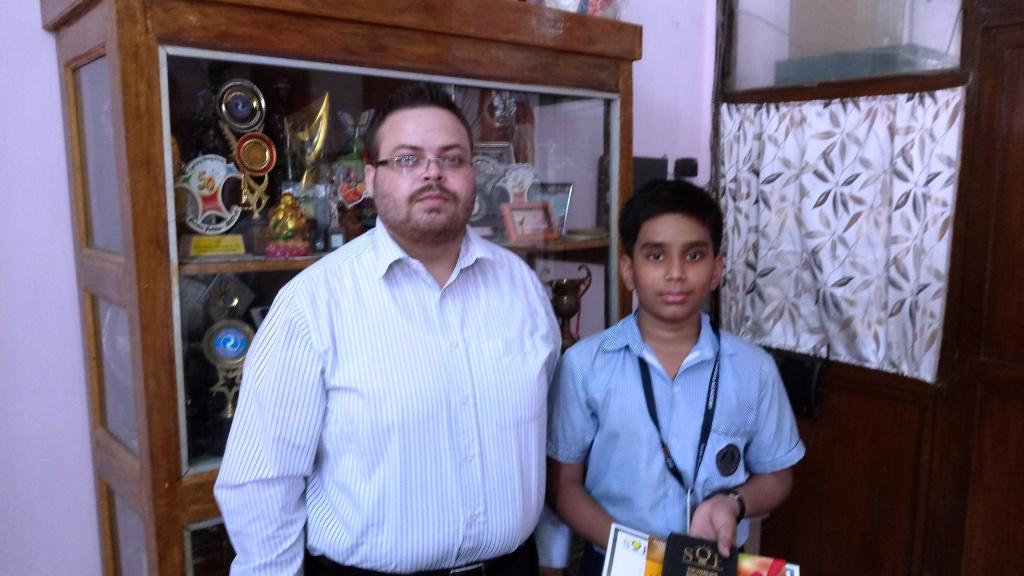 Utkarsh Std-6 with the Principal                                                           Sameer Sinha Std-7 with the Vice Principal
---

---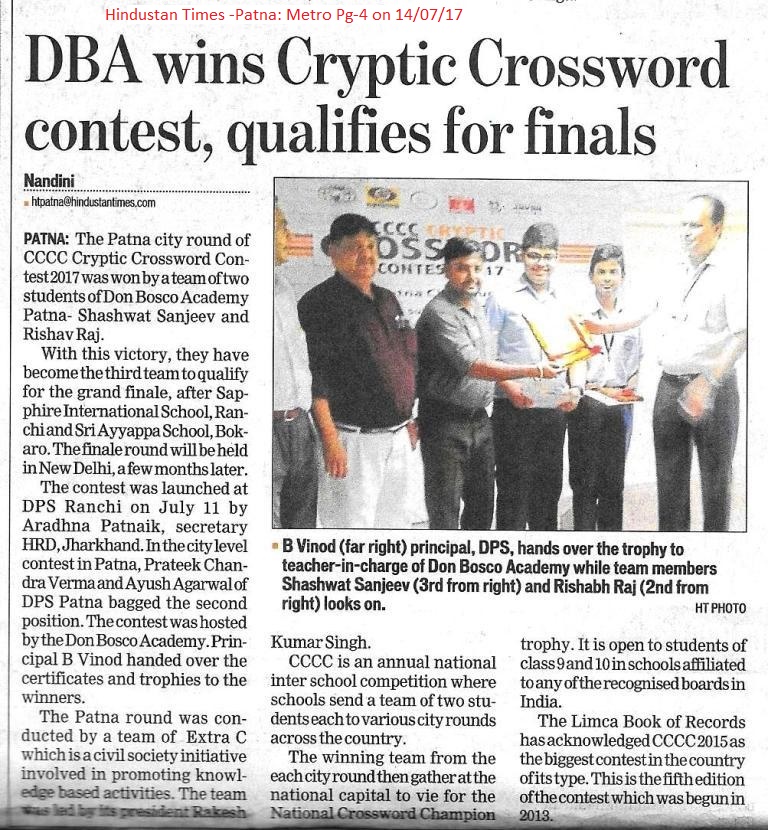 ---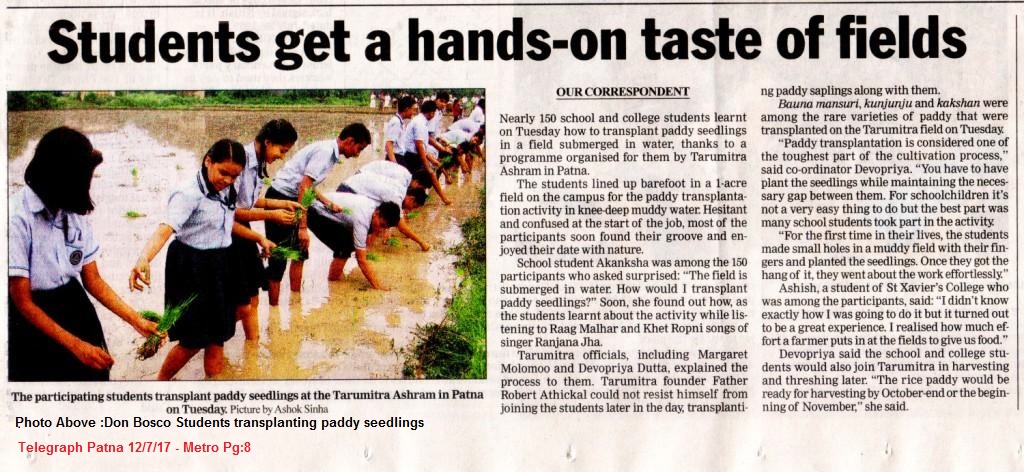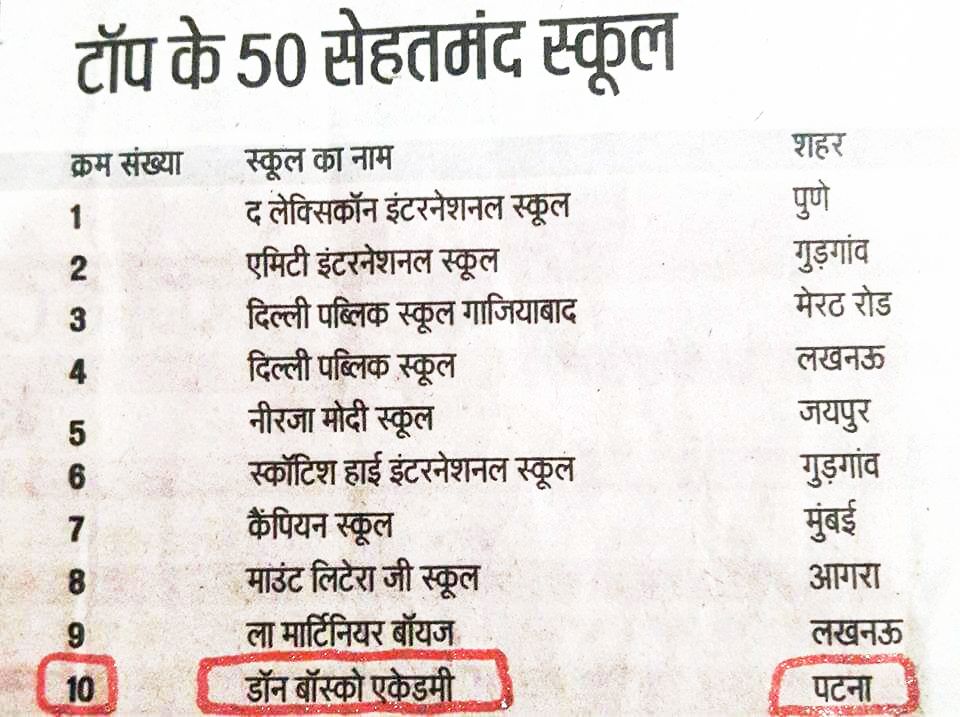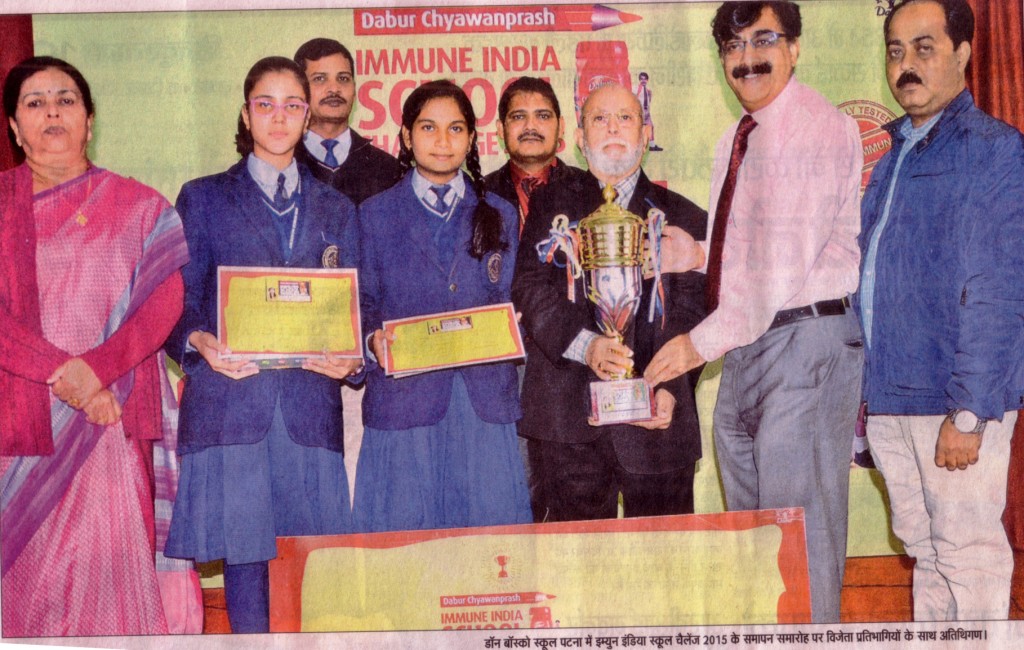 ---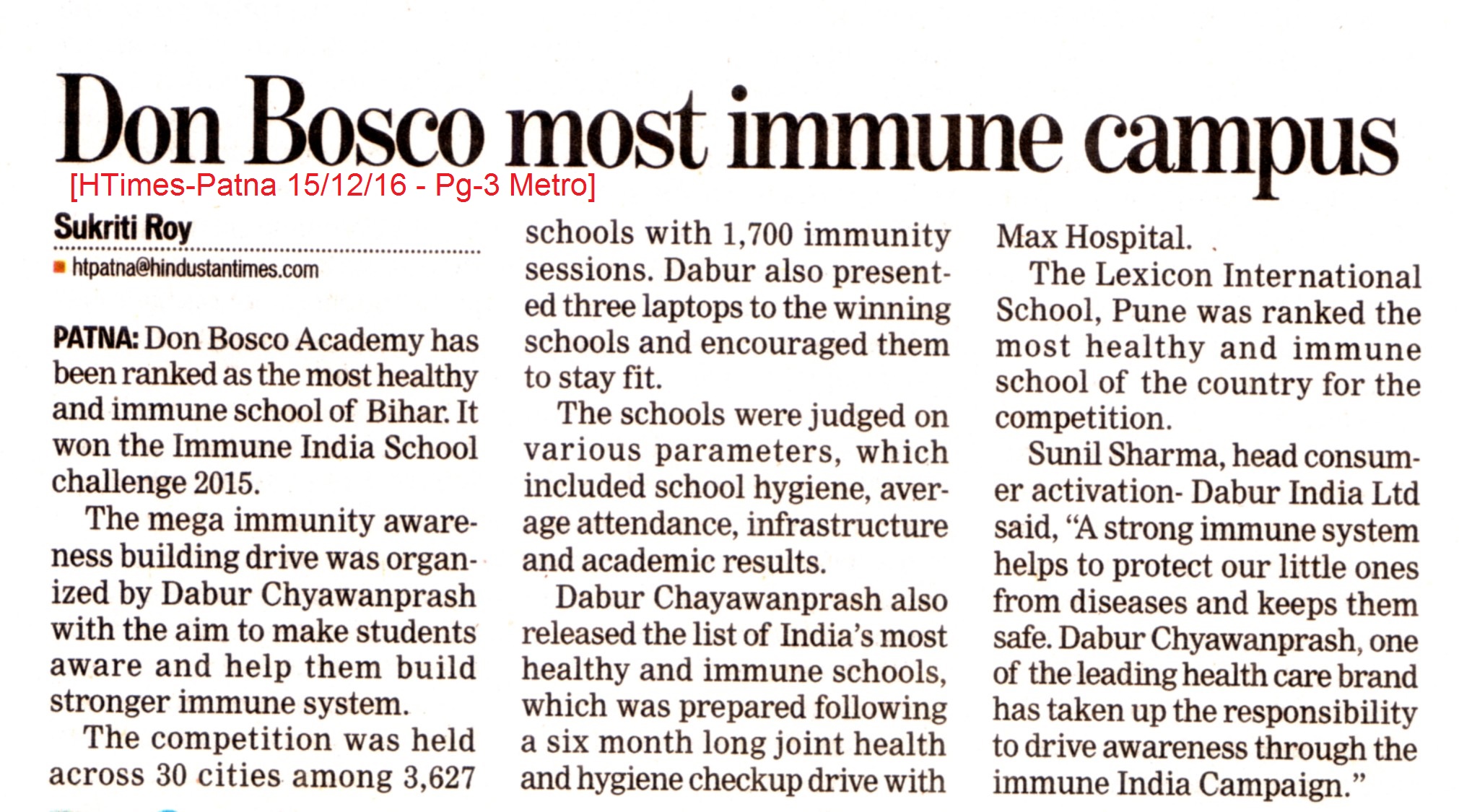 ---
RISHAV SHARMA  OF Std: 5B WINS SIP ABACUS NATIONAL COMPETITION - 3RD ALL INDIA & 1ST IN BIHAR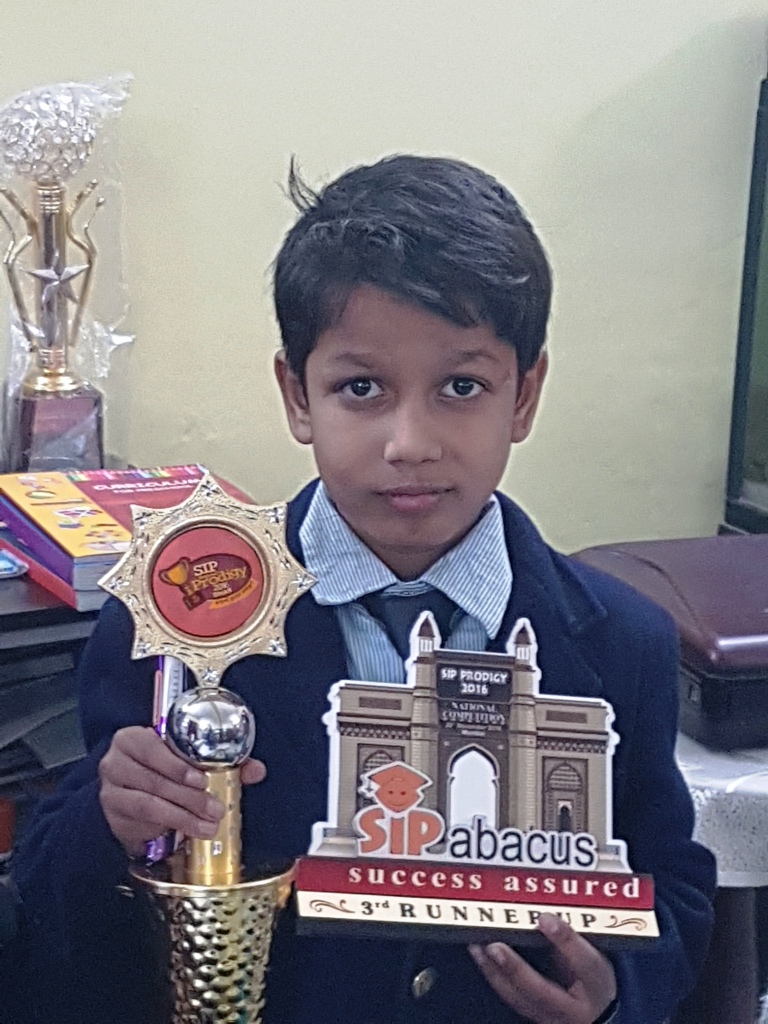 ---
Christmas Carrol Competition 2016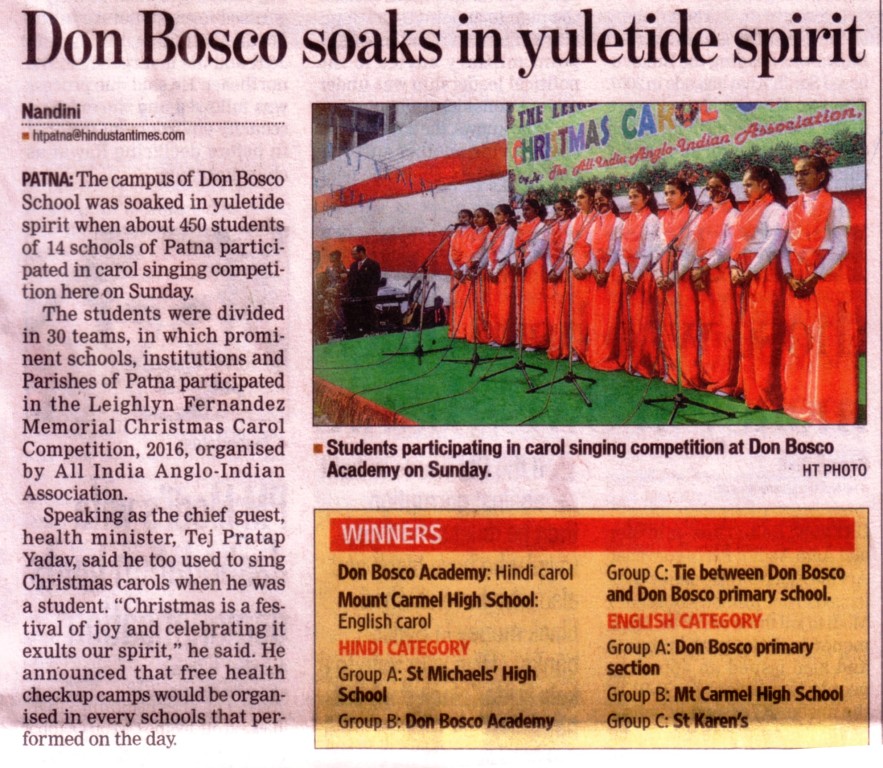 ---
 Inter school debate
---
1st Don Bosco Alumini meet - Class of '95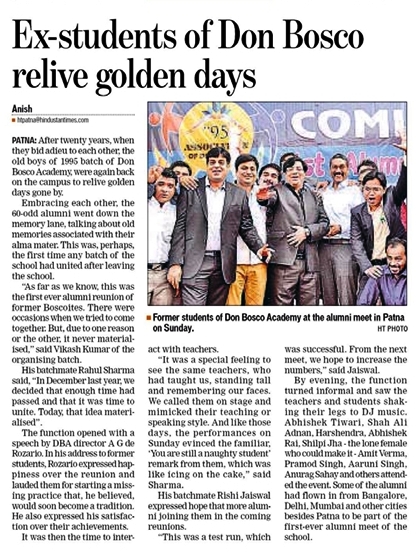 ---
AISCE BIHAR-JHARKHAND REGIONS - BANDMINTON CONTEST 2014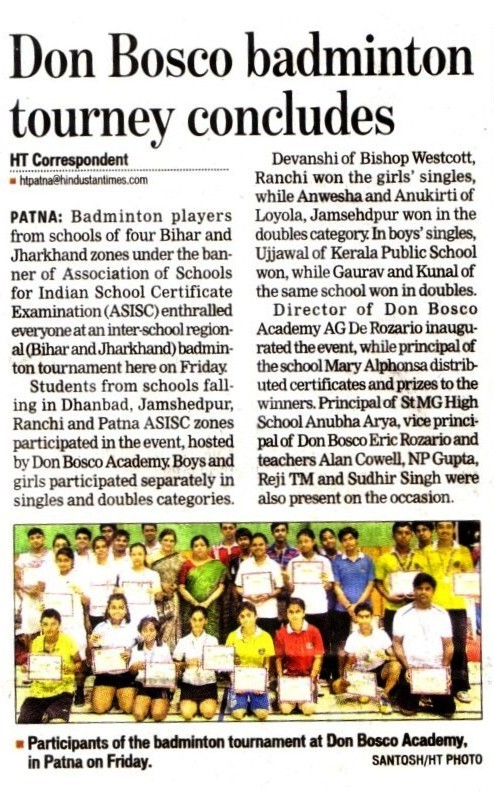 ---
 Dainik Jagran - Junior editors from DBA

---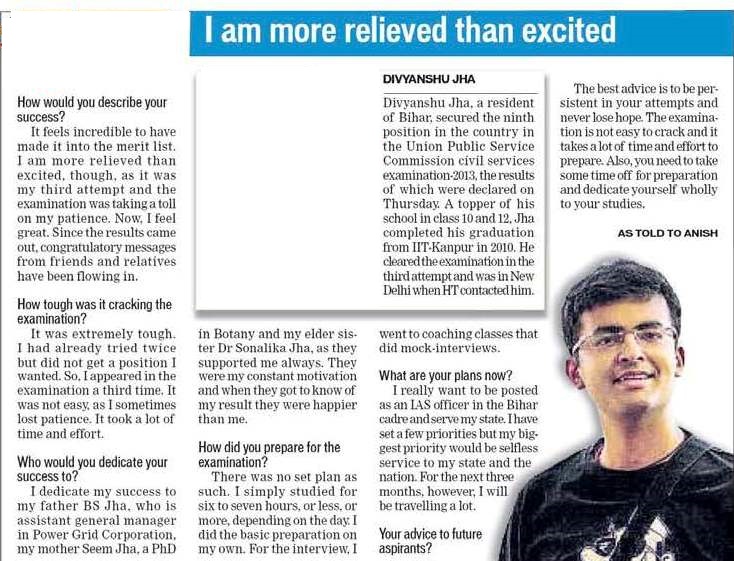 ---
---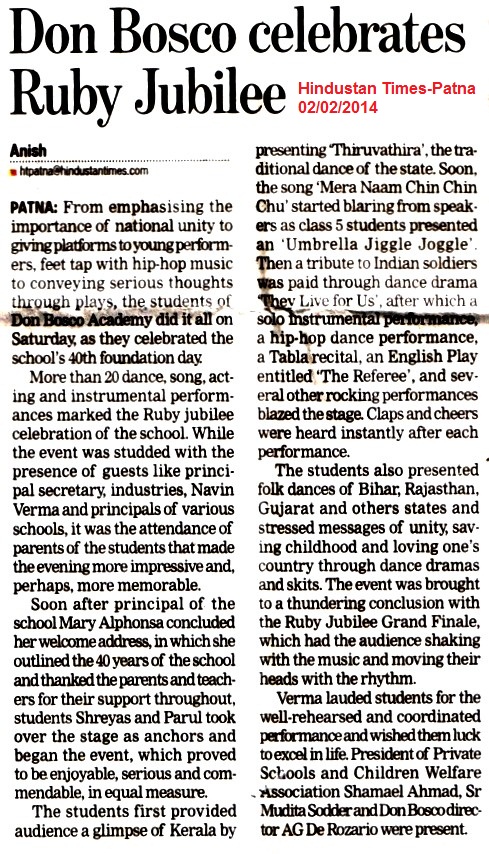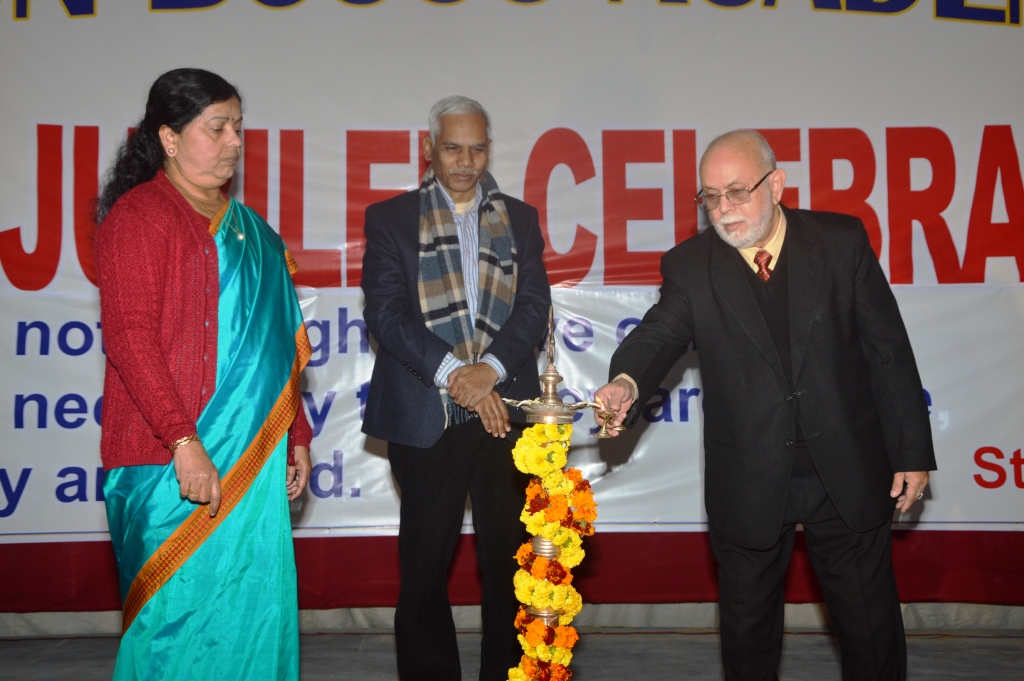 ---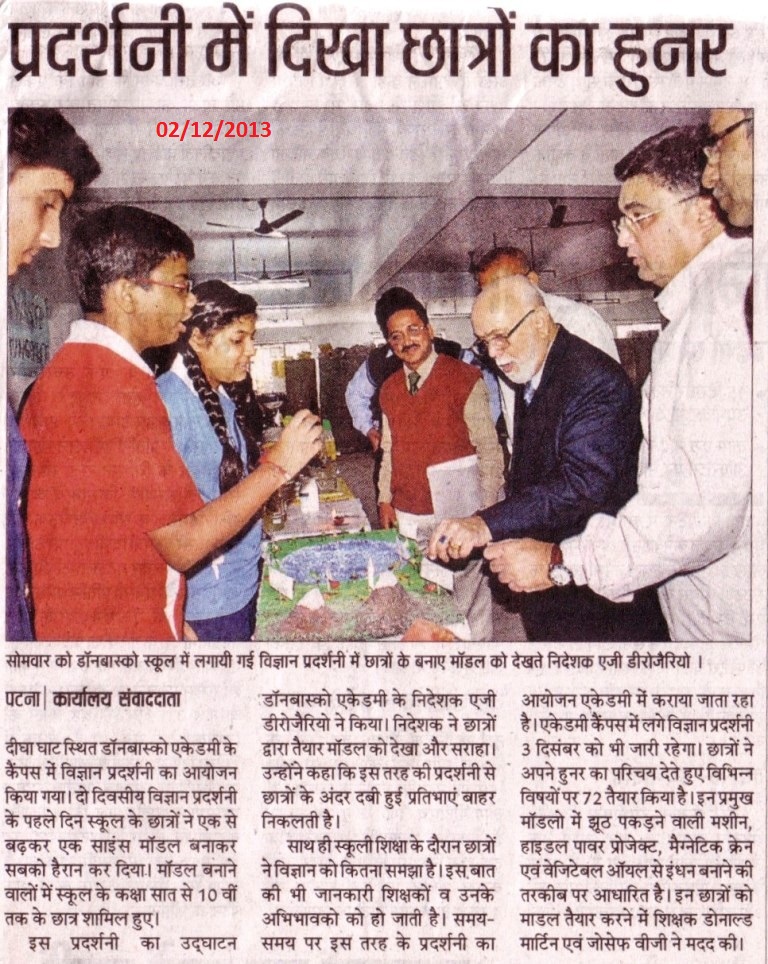 ---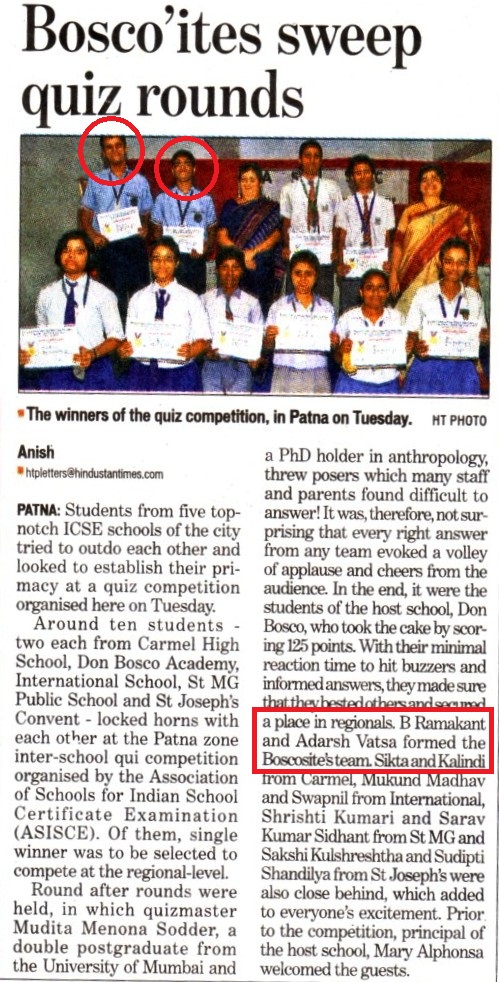 ---
DON BOSCO ACADEMY 1st DIGITAL SCHOOL MAGAZINE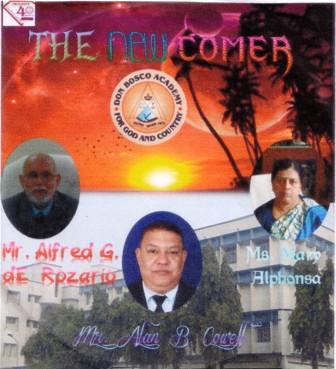 Don Bosco's 1st Digital E-Magazine 0n DVD  Part - I 
 Don Bosco's 1st Digital E-Magazine 0n DVD Part - II
 Don Bosco's 1st Digital E-Magazine 0n DVD Part- III
---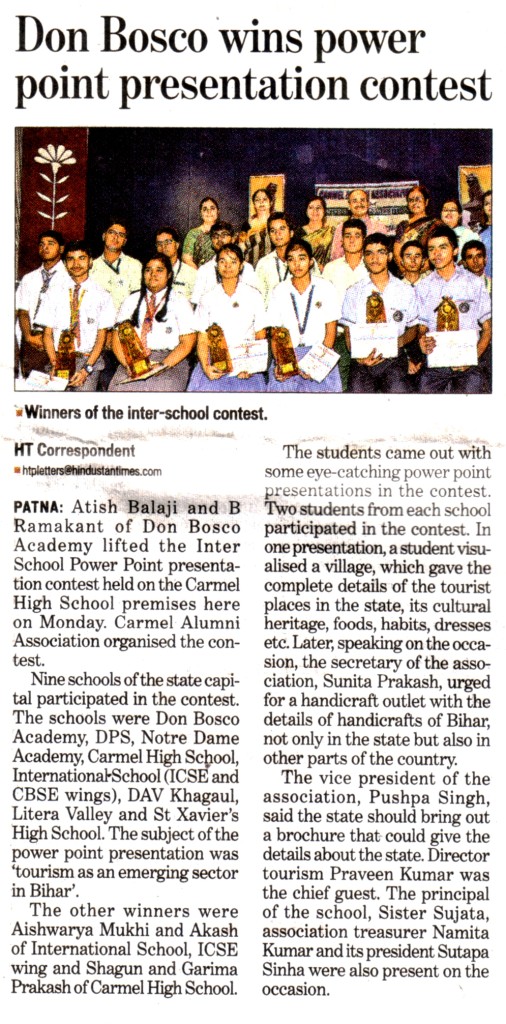 ---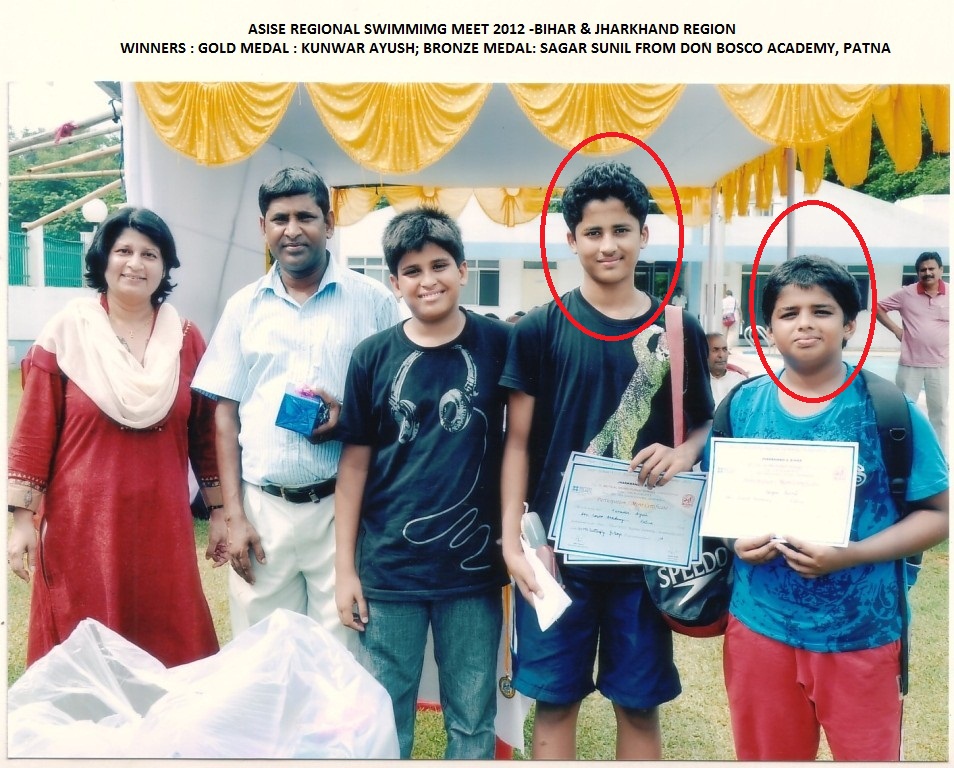 ---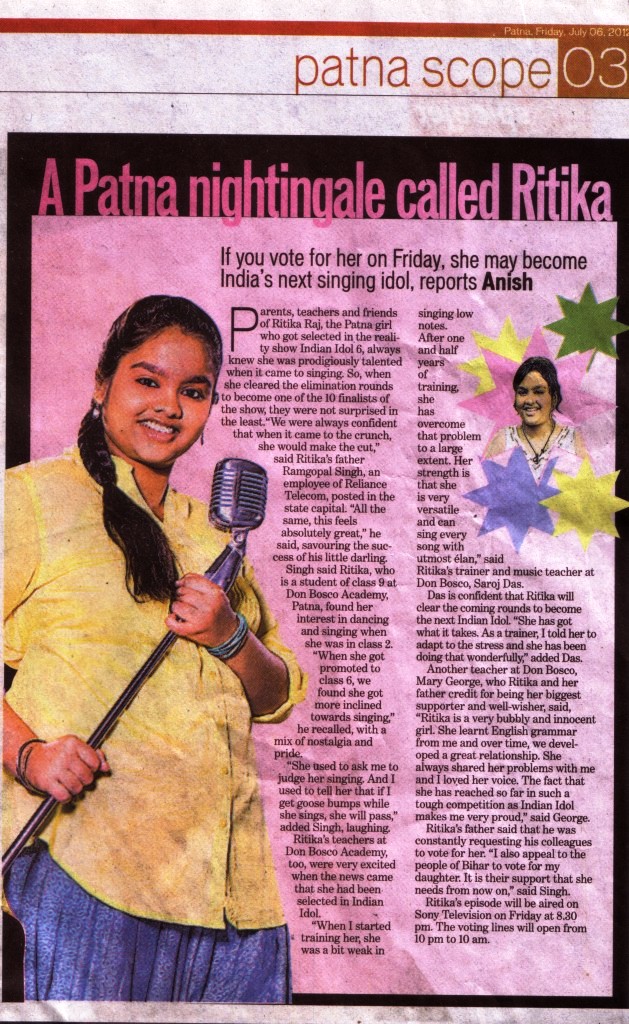 ---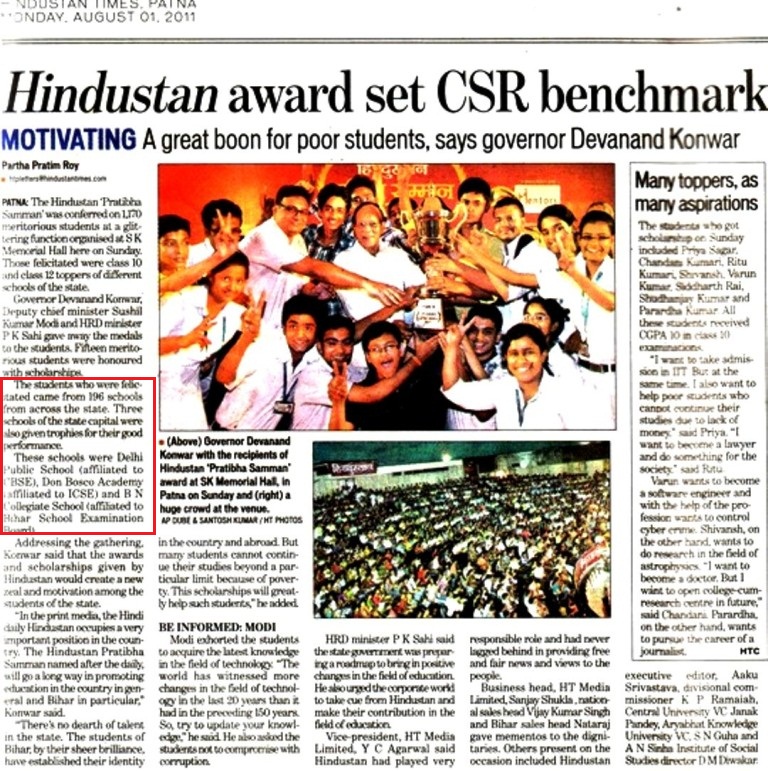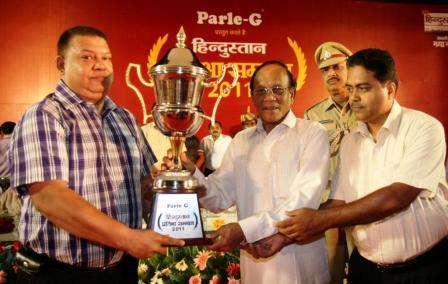 Don Bosco wins BEST ICSE School in Bihar 2011 
---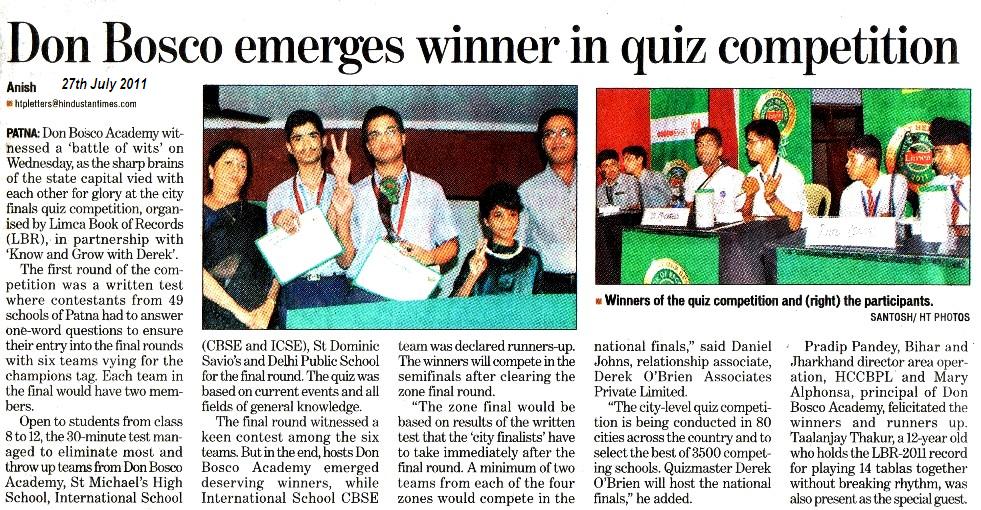 ---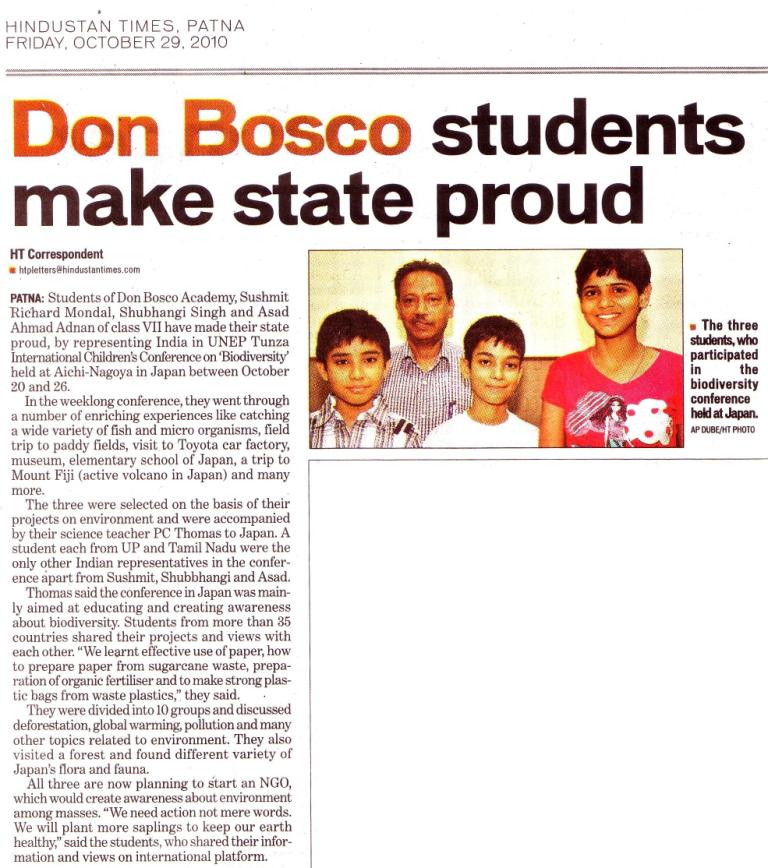 ---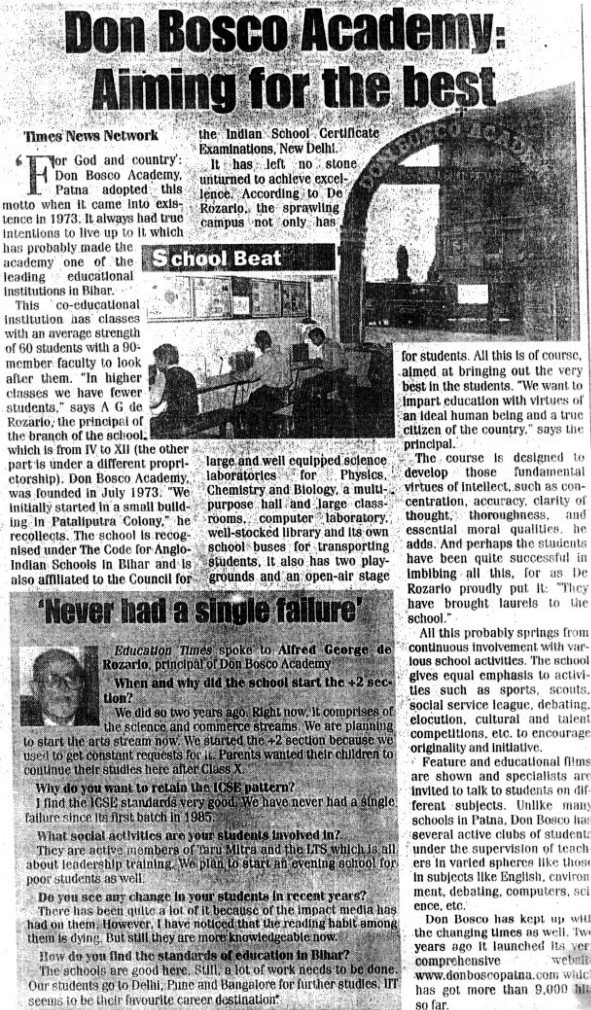 ---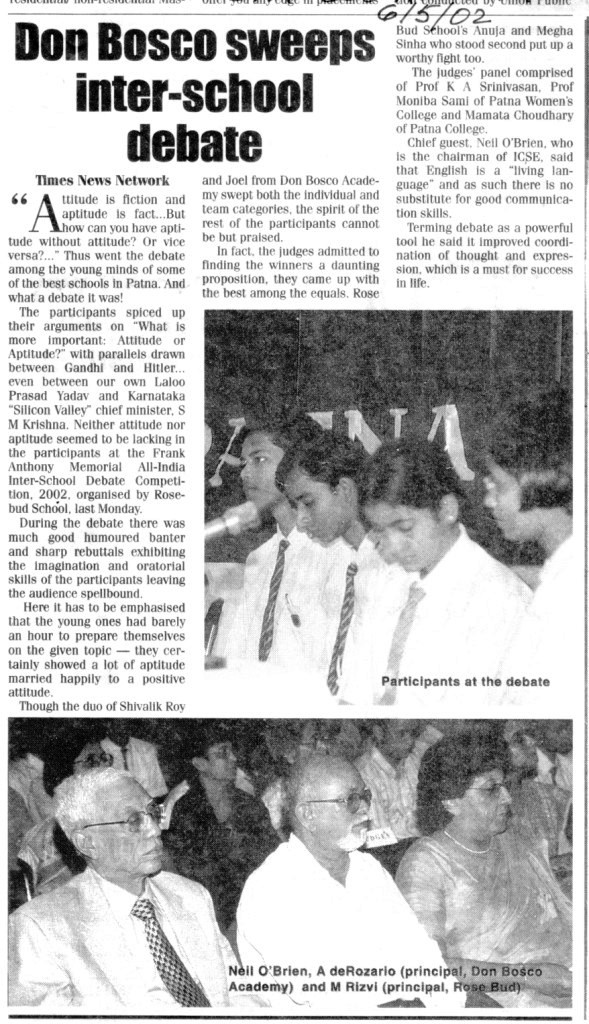 ---
LAUNCH of www.donboscopatna.com